An Ellis Island regular got lucky this weekend on one of our very own Buffalo Grand slot machines. Our local player hit a $747,243.68 jackpot on Saturday night (that's a lot of steak specials.) Our winner asked to remain anonymous, but you might be able to spot her from the coins jangling around in her pocket!
"We are so thrilled that it hit here at Ellis Island! I couldn't be happier that it was not only a Las Vegas local, but one of our regular players," said Anamarie, one of our casino hosts here who was able to greet her after the big win, and treated her to a free dinner at our Village Pub & Cafe.
Just for reference, here are just a few things she could do with all that money:
Ball out at breakfast with 106,900 orders of steak and eggs.

Risk it all with 149,400 hands of blackjack!

62,322 chicken parms?! Sign me up!

Take Wednesday off and spend the day with 149,400 Whiskey and Wings specials OR

Become an EI legend and down 298,900 20 oz. Ellis Island beers.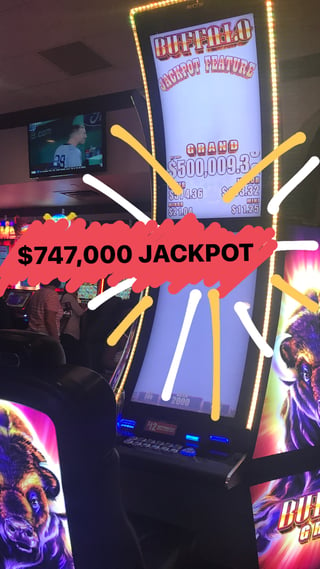 Come try your own at Ellis Island tonight! Who knows, maybe you could be next!