If you have ever played blackjack at Ellis Island Casino, Hotel and Brewery or arrived to Ellis Island Karaoke a bit early on a Friday or Saturday night you may have caught a glimpse of Elvis. Gary Benson as the Ellis Island Elvis impersonator, that is. He was able to take a few moments to answer some questions about his popular gig and give a little more information about the man behind the jumpsuits. Gary expresses a clear love of his craft that also exudes in his weekly show. You can catch him performing as Elvis every Friday and Saturday night at 5pm or dealing blackjack after the show as well as Tuesday-Thursday at 6pm.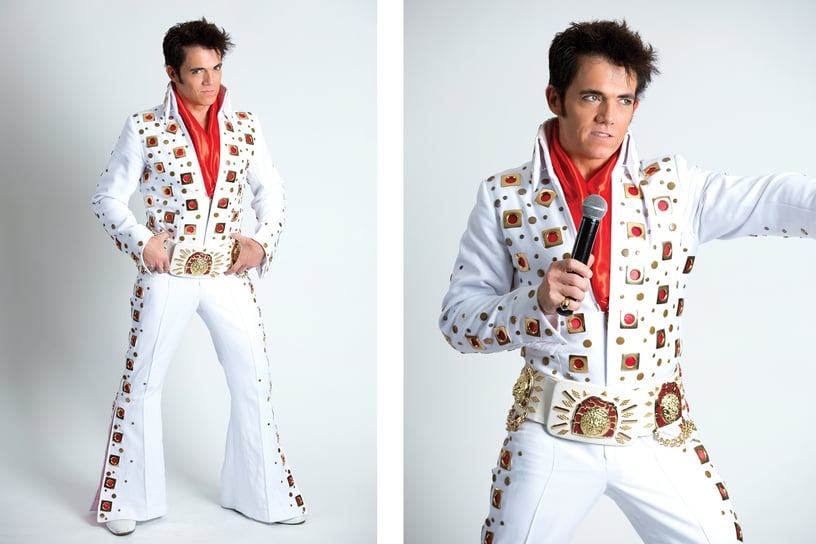 KL: How long have you worked for Ellis Island?
GB: October was three years that I have been at Ellis Island.
KL: Can you explain what a day in the life of the Ellis Island Casino, Hotel and Brewery Elvis is like?
GB: A day in the life, huh? Well, because I work at night I usually get up around noon. I have a cup of coffee and maybe read up on the latest news. I go to the gym for about an hour. I get ready with makeup and all at home. Tuesday, Wednesday, Thursday I start at 6pm [to deal blackjack]. On Friday and Saturday nights I go to work and start the Elvis show at 5pm, which lasts for about an hour and a half. Then at 7pm I deal blackjack until about 1am.
KL: So, aside from dealing blackjack as an Elvis impersonator, you perform your own one-man show. How did this concept come about?
GB: When I started at Ellis Island I noticed that before karaoke starts in the lounge, it was kind of quiet. I had been rehearsing for quite a while at home and had always thought putting on my own show would be an awesome experience. I saw the space there to do a show and asked about it. Management loved the idea and said go for it. The show's been a success and keeps getting better and better.
KL: When did you realize being an Elvis impersonator was something you were interested in doing?
GB: I was ten years old when I first heard Jailhouse Rock. I was an Elvis fan instantly. A couple of years later when I was in the sixth grade my school had a talent show. I performed Blue Suede Shoes and Hounddog. Everybody loved it. I'd never performed on stage before, but I was such a hit that I was the show finale. I loved it. Since then I've done shows all over the U.S. and Canada. I've also performed in Japan, Spain, and England.
KL: Elvis is not only a world-famous icon he has been the definition of Las Vegas entertainment since the late 60's. What is it like to perform as such a recognizable entertainer?
GB: I have so much respect for Elvis as a singer and entertainer. There was no one like him. It is an honor for me to be able to sing his songs for people. So I try to honor him by always doing a performance that he would be proud of. Elvis was at his peak as a performer when he started Vegas in 1969. He was so energetic and his voice was primed. I want people to remember that Elvis, so I do my best to portray that Elvis.
KL: How does one train to become an Elvis performer?
GB: I've spent years and years watching and listening to Elvis. I've performed literally thousands of times, but I'll never get it perfect. There was only one Elvis. I just try to tap into some of that electricity he tapped into and then pass it on to the audience. If the audience is feeling it they pass it back to me. It's a great feeling.
KL: I've heard wonderful things about your high-energy performances, in your own words can you describe your show?
GB: It's a high-energy show. I get to perform for more than an hour and a half. It's not choreographed, so it's always different. I do a lot of songs from Elvis' catalog. I have a set list, but I change it up on a dime if I feel like it. I try and read the audience and guess what's going to work. We get a lot of Elvis fans and then we get a lot of people who might not consider themselves a fan but walk out of there going, "Wow, that was amazing"! That's so gratifying to me. Every crowd is different. People sometimes ask, "Don't you get tired of doing the same songs night after night"? But every crowd is not the same. I love the songs and I love performing. The goal is for everyone to have a great time. Hopefully they leave feeling that they have.
KL: So, you were on the cover of Where Magazine last month. You donned Elvis' classic white jumpsuit. Is this the typical look for you performances?
GB: The jumpsuit is a fan favorite. Elvis was so famous for his outfits. Yes, sometimes I wear the jumpsuit but they are not that easy to perform in. My performances tend to be so energetic that I feel restricted in it. I'm way more comfortable in his iconic black leather suit or I might even do my whole show in his Jailhouse Rock outfit. I know some songs are supposed to go with some suits, but I don't have time for a wardrobe change and by the end of the show I don't think the crowd is holding it against me.
KL: Are you often recognized on a day-to-day basis outside of work?
GB: When I'm outside of work I can usually be found in jeans and a t-shirt with a ballcap. So not really and that's ok. I like just being me too.
KL: What is your favorite part of your work?
GB: To be able to perform and do what I love to do on a regular basis is a gift from God and I love that and I am thankful.
Gary's energetic performance is absolutely worth seeing. His pride in his work makes for an incredibly entertaining evening, it's a free show that should not be missed. Swing by Ellis Island Karaoke Friday and Saturday nights at 5pm to see for yourself and witness Elvis in action.